Create a Supporting SAM Fundraiser/Find a Participants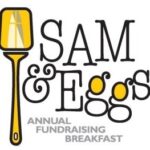 Your support of this effort is more important than ever to help provide food and shelter for our hungry and homeless neighbors. 
We need your help to meet our $200,000 goal by creating a Supporting SAM campaign and spreading awareness of our mission: providing food, shelter and hope through Christian love. 
How does it work? It's easy! 
Decide if you want to fundraise as an individual or team.
Complete the simple registration below and a custom page will be automatically created for you.
You can raise funds right away by sharing with your friends, family, employees, group members and colleagues!