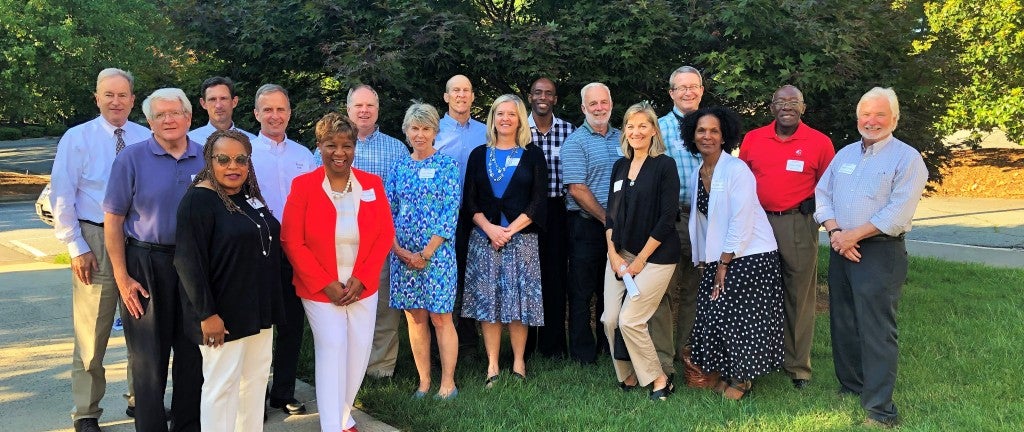 Samaritan Ministries Board of Directors 2019-2020
Clyde R. Cash
Board President
Partner, Craige Jenkins Liipfert and Walker, LLP
Jerry Enos
Board Vice President
Retired, Executive VP, Wells Fargo
John Justus
Board Secretary
Office Manager, Learfield IMG College
Bo Brookby
Board Treasurer
Retired, Exec. VP & Managing Director, Wachovia
Al Jones
Board Assistant Treasurer
Retired, Associate Partner, Aon Hewitt
Richard Watts
Board Development Chair
Retired, Executive Vice President, BB&T
---
Holly Brower, Ph.D.
Associate Professor. Faculty Director of BEM Internship Program, Wake Forest University
Carole Crosslin
Global Director, Corporate Communications, HanesBrands
Rob Davis
Senior VP, Business Services Team Leader, BB&T, now Truist
Dexter Felder
Director, Counseling & Student Services, Early College of Forsyth Tech
Mike Ford
Retired, Director of Philanthropy and Legacy Programs, Pro Humanitate Institute, Wake Forest University
Charles Forrest
Gaining Control Coordinator, Sunnyside Ministry
Bob Gentile
Retired, VP Business Development, Penn Engineering
Denise Jenkins
Realtor, Berkshire Hathaway HomeServices
Larry Joe
Retired, Piedmont Natural Gas
Brenda Kearney
Pastoral Director, St. Peter's Church and World Outreach Center
Stephen C. Koelsch
SVP/Triad Market President, Capital Bank
B. Thomas Lawson, Jr.
Sr. VP, Philanthropic Sales Specialist, U.S. Trust, Bank of America Wealth Management
Dwight Lewis
Associate AD of Community and Alumni
Relations, Wake Forest University
Kelvin Mayfield
Lead Finance Manager, Reynolds American Inc.
Ben Noland
Principal, Stratford Advisory Services LLC
Lisa Parrish
Broker, Berkshire Hathaway HomeServices
Robert Parsley
Vice President/CFO, Carswell Distributing Co.
Lucy Paynter
Retired Director of Christian Formation, St. Paul's Episcopal Church
Ed Robins
Managing Principal, JT Stratford, LLC
Keith Rogers
President, Keith Rogers Homes, Inc.
P. Michael West Jr. AIA
West & Stem Architects, PLLC
Ron Wixson
VP/Analytic Consultant, Wells Fargo