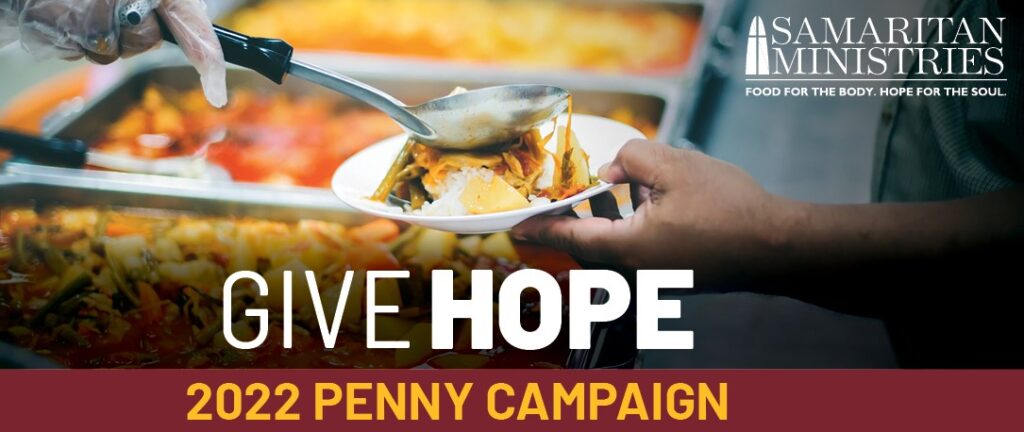 Every Cent Counts!
News Flash! A generous donor has given a matching gift up to $5000. Your gift will now be matched and double the blessing!

For over 30 years, Samaritan Ministries has brought together different generations of the Winston-Salem community to help our hungry and homeless neighbors. Through donations given to the Penny Campaign we give hope to many people in our city who need a warm meal, a safe space, and a friendly smile this winter.
Three ways to help: 
Online: Go To Donate Now
Peer-to-Peer: Create a mini-campaign with your friends – click here
In-person: collect cash (bills and all the kinds that jingle!) and bring it to Truist Stadium – Home of the Winston-Salem Dash – 0n Saturday, December 3rd from 9:00 a.m. to Noon.
Have questions, please email kimberly.robertson@samaritanforsyth.org or call 336-448-2668.
Learn how to get your school involved with the Penny Campaign. Click here to download our school flyer to share with your students and staff.

Watch these Amazing #MyPennyCampaign Stories!
It is truly inspirational to hear all these amazing Penny Campaign stories from members of our community. Thank you for spreading HOPE through your memories and inspiring others to give back to those in need. You can check out these amazing #mypennycampaign stories by clicking the video below or here to watch the full playlist.
There is still time to share your #mypennycampaign story! You can upload a video and tag/inbox us on Facebook or Instagram.
Be sure to like and subscribe to our YouTube channel – Samaritan Ministries.