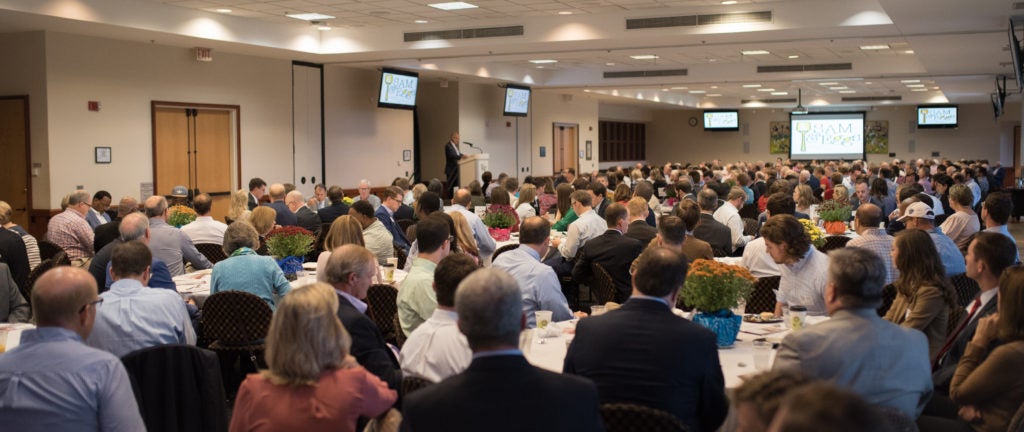 SAM & Eggs
Since 2006, SAM & Eggs has provided significant financial support for Samaritan Ministries. The goal for 2021 is $200,000. All money raised stays in the community to help hungry and homeless people.
SAM & Eggs, 2021, historically an in-person event, will be a hybrid this year as we gradually return to normal after the COVID-19 pandemic hit our community hard. The safety of our supporters is Samaritan's top priority so we have decided to reduce the maximum number of attendees in order to keep a comfortable and safe distance.
The 2021 SAM & Eggs event will be held on Wednesday, September 29, 2021 at 7:30 a.m. at Bridger Field House, as well as being streamed online at www.samaritanforsyth.org. SAM & Eggs funding will be critical this year due to increased expenses around our operational adjustments during the pandemic and uncertainty regarding revenue in the coming months.
Please contact Karen Bell Chandler at 336-448-2664, or karen.bellchandler@samaritanforsyth.org, for more information about the event and sponsorship opportunities.
To view the 2020 program, check it out in the video link below:
---
The Good Samaritan Philanthropy Award
Samaritan Ministries established the award in 2011 to honor individuals and groups who have made significant contributions to the Ministry. Their hope is that the award will inspire others to give their time, talents and resources to help hungry and homeless people in our community.
Good Samaritan Award Winners:
2020 The Winston-Salem Foundation
2019 Harriet Allen
2018 Bo Brookby
2017 Dick Egloff
2016 Reynolds American
2015 HanesBrands
2014 Gilmour Lake and Paul Breitbach
2013 Tom Pierce
2012 Keith Huskins
2011 Mike Ford