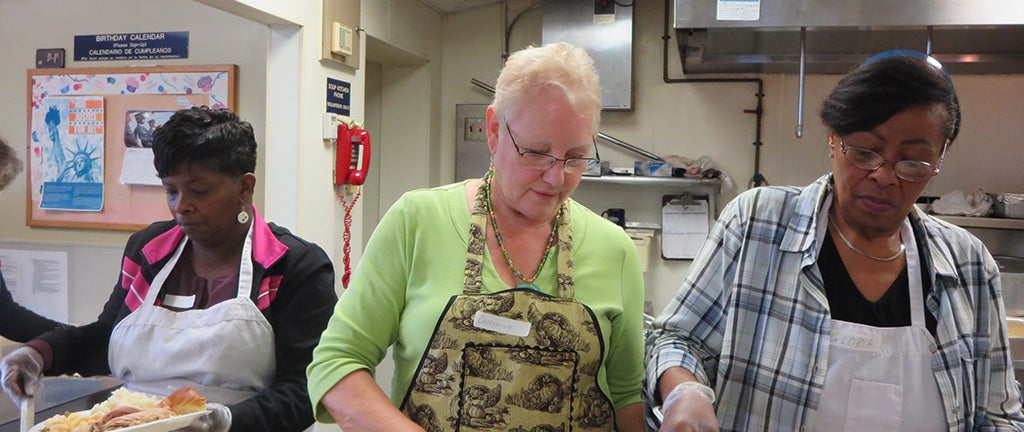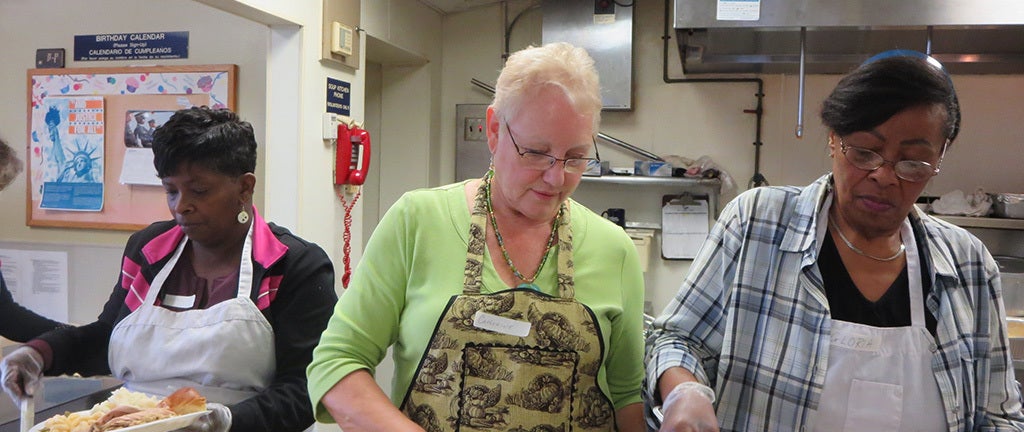 Volunteer Opportunities
People can volunteer on their own or as part of a team in the Soup Kitchen or shelter. Soup Kitchen team members prepare and serve lunch for 200 to 450 guests daily. Weekly team members volunteer twice a month or weekly from 9 a.m. to 1:30 p.m. Weekend teams volunteer once a month. Weekend team members work Saturday, 9 a.m. to 1:30 p.m. or Sunday 10 a.m. to 2:30 p.m.
Shelter teams are set up through your church or community organization. Each month a different denomination staffs the shelter. As a team member, you prepare supper and breakfast for up to 80 homeless men. During the night, volunteers watch the security monitors in two-hour shifts. Dinner, breakfast and separate sleeping quarters are provided. Shelter team members volunteer once a month and work from 6:15 p.m. to 7:30 a.m. the following day. Hospitality leaders help with new guest check-in and serve from 6 to 10:30 p.m.
Each night a dinner leader oversees shelter volunteers in the kitchen. Dinner leaders serve one night a month, from 6 p.m. to 10:30 p.m. The dinner leader begins dinner and supervises the serving and clean-up of dinner, as well as preparation for breakfast the next morning.
A check-in leader supervises overnight volunteers in the check-in area one evening a month, from 6 p.m. to 10:30 p.m.

Check out this video of the River Oaks Community Church overnight group: