Now through April 7, please vote once a day for Al Jones to receive the People's Choice Award through HandOn Northwest!
Scroll to Al Jones. Click "vote" once a day through April 7!
The individual or group who receives the most votes will be recognized, along with the traditional category winners that are chosen by the GVSA Selection Committee.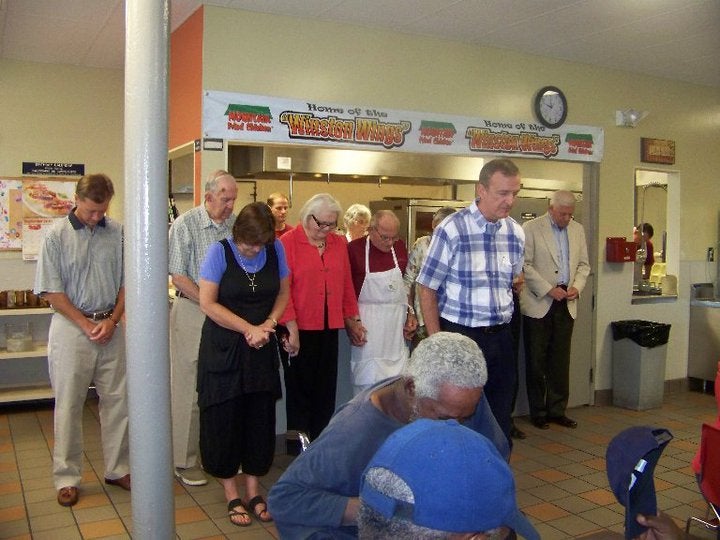 Pictured: Al (front) prays with a group of volunteers at Samaritan in 2010.
Al Jones has been an integral part of Samaritan Ministries since 2006. His service touches every aspect of Samaritan, including the Soup Kitchen that feeds hundreds of people each day, the Samaritan Inn that shelters up to 80 homeless men each night, and the volunteer board that guides the Ministry. Al serves loyally with his church, Mt. Tabor United Methodist, once a month as an overnight shelter volunteer. He also saw the need for more shelter check-in leaders and stepped into that role monthly as well. These two roles totaled 148 hours of service last year. But those hours don't include the time Al spends serving as the co-chair on our church subcommittee to recruit overnight shelter volunteers; picking up food donations to keep the Soup Kitchen pantry stocked; and serving as the board's assistant treasurer, completing a 6-year term that runs until 2021. Al is also a member of the Tour de Llama committee (an annual bike ride that raised nearly $37,000 last year.) He also has earned the title "Water-man" because he services all the water stations for the bikers during the ride. He sets up the night before and works 8-10 hours the day of the ride. Al is always just a phone call away no matter what the need may be. One day, we needed help directing traffic for a lunch event. Without hesitation, Al recruited friends and showed up in rain gear to direct traffic in the pouring rain – and a smile never left his face.