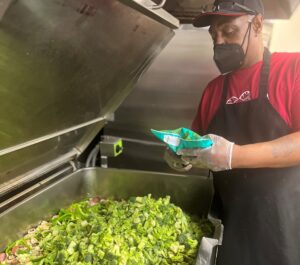 Behind every shared meal, there is a story to tell. Meals can contain more than nutrition; they can also hold cherished memories and experiences. For Robert G., Soup Kitchen Assistant at Samaritan Ministries, cooking for others has always been a generational way of fellowship in his family. As a child, Robert would assist his mother in the kitchen and absorb her cooking skills, tips, and recipes.
"My mama always said you have to cook with love." – Robert G., Soup Kitchen Assistant at Samaritan Ministries.
His excitement for cooking followed Robert into his adulthood as he started working in the food services industry. In 2022, after transitioning into Samaritan Ministries' Aftercare program for Project Cornerstone men, Robert jumped at the opportunity to work within the Soup Kitchen starting as a part-time breakfast cook and has now been promoted to a full-time Soup Kitchen Assistant.
When asked how it feels to serve the current Project Cornerstone men and shelter guests, Robert expresses how it is a blessing to offer the same support to others facing similar circumstances.
"I felt there was a need for me to give back. God and Samaritan Ministries' Project Cornerstone have blessed me so much that I felt I could help make a difference by sharing my story and passion for cooking," said Robert.
As Robert continues to fulfill his childhood dream of cooking for others, he expresses much gratitude and appreciation for his Soup Kitchen team for their love and mentorship and for the Samaritan volunteers for coming together to help prepare and serve meals of hope to our neighbors in need.
Robert's story is one of many that show Samaritan Ministries to be a place of new beginnings and second chances.