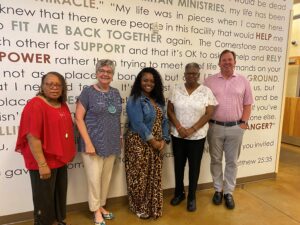 We are thrilled to announce the newest members to Samaritan Ministries' Board of Directors. In picture: Brenda A. Kearney, Sylvia Oberle, Brittany G. Neely, Rev. Jackie M. Hairston, Todd A. Williams, and Jerry Enos (not pictured).
Each of these individuals brings a unique set of skills, experiences, and perspectives to our organization. We are confident that their leadership, mission-driven approach and unwavering commitment to our cause will help us achieve our goals and continue to make a positive impact in our community.
Thank you for joining us in welcoming these outstanding individuals to our team!