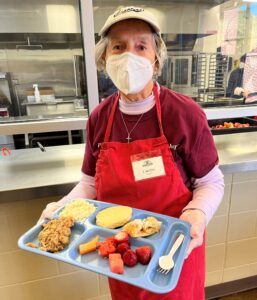 The words dependable, willing, and committed are deserving yet insufficient to describe Carolyn Britt and what she means to Samaritan Ministries. Though she has volunteered at Samaritan for 12 years, the pandemic gave us a fresh perspective of her contributions to our ministry's mission, "Providing food, shelter, and hope through Christian love."
During these years when the volunteer program was upended by Covid, Carolyn logged nearly 500 hours, many days coming to fill in when we were short on volunteers. Carolyn was one of the experienced volunteers who could be counted on during the holidays to come in and serve an evening meal to our overnight shelter guests. We see a servant leader who is willing to sacrifice time and talent to make sure the Soup Kitchen can serve over 200 of our hungry neighbors a warm meal every day. Carolyn can be found performing any of the kitchen duties needed, but her specialty seems to be preparing dessert for lunch service. She is meticulous in cutting and arranging the goodies just so, and I am sure our guests appreciate the care and LOVE Carolyn puts forth.
Long before Carolyn blessed us here at Samaritan with her great compassion and HOPE, she spent 40 years as a registered nurse. Carol has been an active member of College Park Baptist Church for 10 years. At College Park Carolyn is involved in the Senior Choir, and volunteers in the church nursery and kitchen committee.
Carolyn's mission is to give back as much as she can. Her impact and stewardship is truly inspirational and we are grateful for the service she provides to our guests, volunteers, and staff.
________________________________________________________________________________________________________________________________________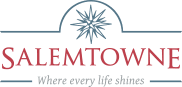 Samaritan Ministries' Volunteer Program in 2022–23 is sponsored by Salemtowne, a nonprofit life plan community offering an environment of belonging and support where lives flourish.
_________________________________________________________________________________________________________________________________________