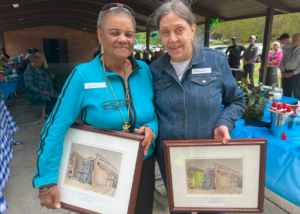 This award was established in 2017 in honor of long-time volunteer Myrtie Davis because of her faithful service to Samaritan and her willingness to follow the words of Jesus in Matthew 25:35. Myrtie places a high priority of spending quality time with everyone and is an intentional listener. Above all, she wants everyone to know they are loved. She practiced what we all want to do — to be the hands and feet of Christ.
Both Kathryn Harris and Margaret Mills are two steadfast Samaritan volunteers, who have often spent their time volunteering at Samaritan Ministries together and being servant leaders. They have now been friends for decades.
Kathryn has been a volunteer at Samaritan since 1988. She is well-known for running the beverage station in the Soup Kitchen and especially for offering special drinks like chocolate milk to children who come through for a meal. In addition to her duties at Samaritan, she is also active with Forsyth Jail and Prison Ministries and often connects with Samaritan guests who she has also known through that avenue. Kathryn has also been instrumental in keeping her own church, Saints Home United Methodist, engaged in the Samaritan Penny Campaign as well as regular canned food collection for the Soup Kitchen.
Margaret began volunteering at Samaritan in 1985, and she has also served on the Board of Directors. Margaret has often been a one woman show to pick up food from local grocery stores that has been donated to Samaritan, getting to know many store employees by name. She is known for arranging neighborhood canned food drives at Thanksgiving and has a special place in her heart for the men participating in the Cornerstone program at Samaritan.
"Volunteers are truly the heartbeat of our Ministry in the fulfillment of our mission to provide food, shelter, and hope through Christian love," Samaritan Ministries Executive Director Jan Kelly said. "The dedication that both Kathryn and Margaret have shown to Samaritan Ministries for decades is both inspiring and vital to our organization. We cannot what we do without volunteers, and these two women have been a true foundation for much of our work. We could think of no one better to receive this honor."
We are grateful to all our volunteers who have made Samaritan Ministries a place in their hearts. Thank you for supporting our mission and the lives of our guests.
________________________________________________________________________________________________________________________________________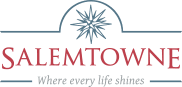 Samaritan Ministries' Volunteer Program in 2022–23 is sponsored by Salemtowne, a nonprofit life plan community offering an environment of belonging and support where lives flourish.
_________________________________________________________________________________________________________________________________________