March 13, 2020
Friends of Samaritan, 
We wanted to take a moment to address the increasing developments of COVID-19 (coronavirus) in our community.
What are we doing?
We are continuing to monitor the development of this issue and are taking proactive measures to implement appropriate responses. The health and safety of our guests, volunteers, staff and visitors is our utmost priority.
We have implemented additional measures at the Ministry to ensure proper sanitation, as recommended by the CDC, the Department of Public Health and the WSFC Continuum of Care. In addition to increasing the cleaning of all surfaces, particularly high-use areas, we have increased the number of hand sanitizing stations and signage to encourage appropriate hand-washing guidelines for everyone in the building.
We are continuing to advise staff and volunteers to stay home if they are ill.
What about our services?
Samaritan will continue to serve our hungry and homeless neighbors, who are in a vulnerable position in our community and have nowhere else to go.
How can you help? 
Please pray for those affected by the illness and for the protection of our Samaritan family during this time.
We anticipate an increase in Soup Kitchen guests in the coming weeks. Because many of our volunteers are older adults who are limiting their exposure to crowds, we need additional volunteers for all shifts. Please 
register online here
. We have an urgent need for picking up food from local grocery stores. If you are available, please call Vania Elliott at 336-748-1962 ext. 303 for more information. Note: volunteers must have transportation and light lifting may be involved.
For those that are food donors, please continue to drop off donations at the back door. With an anticipated increase in meals that will need to be provided, we will strongly lean on food donations to fulfill these needs.
Keep in touch:
Recognizing that this remains a fluid situation, please continue to check our 
website
, 
Facebook page
 and e-mail for updates on our plans.
Sonjia Kurosky
Executive Director
---
Update 3.16.2020: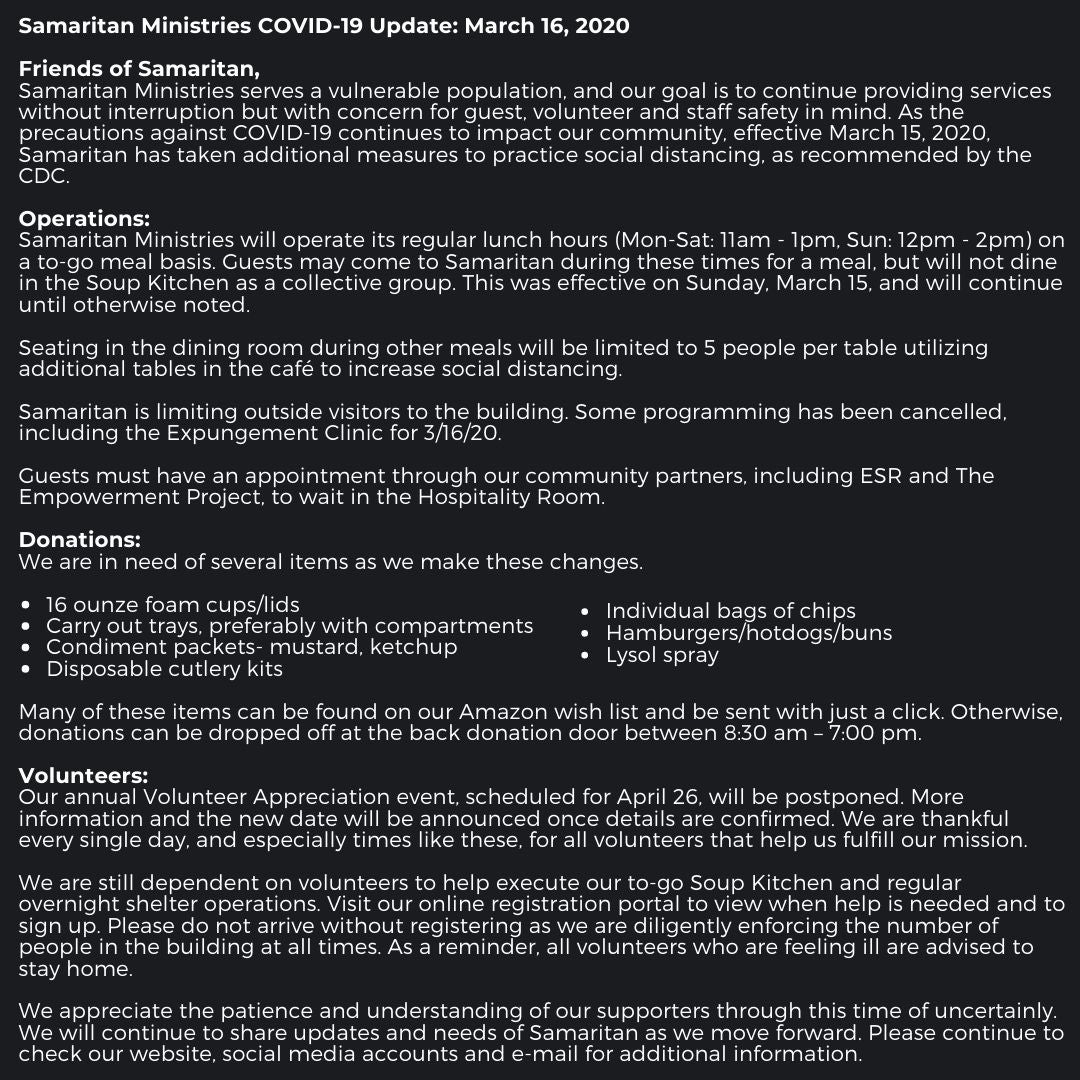 ---
Update 3.17.2020: