Tour De Llama
Tour de Llama takes place in the spring at Divine Llama Vineyards in East Bend. Our inaugural event in 2014 attracts hundreds of community-minded men and women. Cyclists choose from 21, 38 or 61 mile rides through the Yadkin County countryside and return for lunch, photos with llamas, hayrides and more. It's a true family event with activities for all ages. We look forward to seeing you in 2022!
2021 Results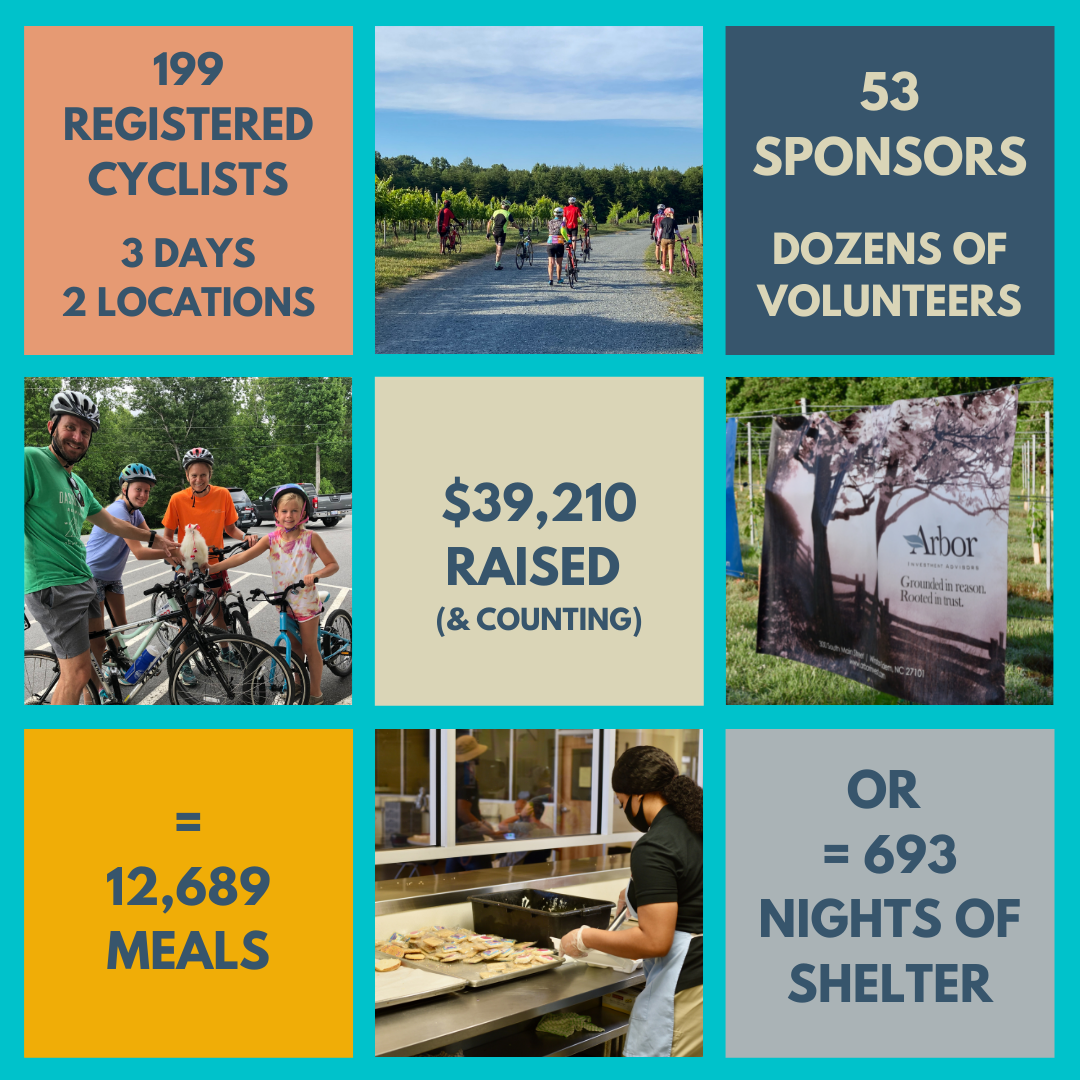 ---
2021 Sponsors
PRESENTING SPONSOR: 

Gold Level Sponsors:
Anonymous (3)
Carol & Rick Atwater
The Budd Group
East Coast Wings + Grill
Joe & Kathy Ely
Flyin' Saucer Disc Golf Dyes
Susan & Al Jones
JT Stratford, LLC
ICON Custom Builders
Megan & Tom Lawson
Mary & Michael McCandless
West & Stem Architects
Windsor Commercial
Silver Level Sponsors:
Laurin & Matt Eastling
Janet & Jerry Enos
Fiddlin' Fish Brewing Company
Fourth Elm Construction
The Langfitt Family
Nationwide Marketing Group
New Atlantic Contracting
James Olson
Optimal Health Chiropractic of Clemmons
Lisa & Nathan Parrish
Plaza West Apartments
ProBenefits, Inc.
Austin Temple & Katelyn Henderson, DDS
Bronze Level Sponsors:
 Anonymous, in honor of Michael and Patricia West
Jane & Jonathan Aves
Baird Private Wealth Management
Jon & Mary Bolton
Brendle Crouse P.A.
Clyde & Ann Cash
Gayle & Mike Ford
Charles & Vicki Forrest
Nan Griswold
Gwyn Electrical, Plumbing, Heating and Cooling
Rev. Donald & Denise Jenkins
Jewellery Unique
John & Mary Ann Justus
Rev. Brenda A. Kearney
Bobby Patterson
Ruth Prongay
River Birch Lodge
Ed & Vicki Robins
Security Underwriters Insurance
Scott & Jean Anne Semke
Shelco, LLC
The Umlauf Group at KW Elite
WinMock at Kinderton
Womble Bond Dickinson (US) LLP