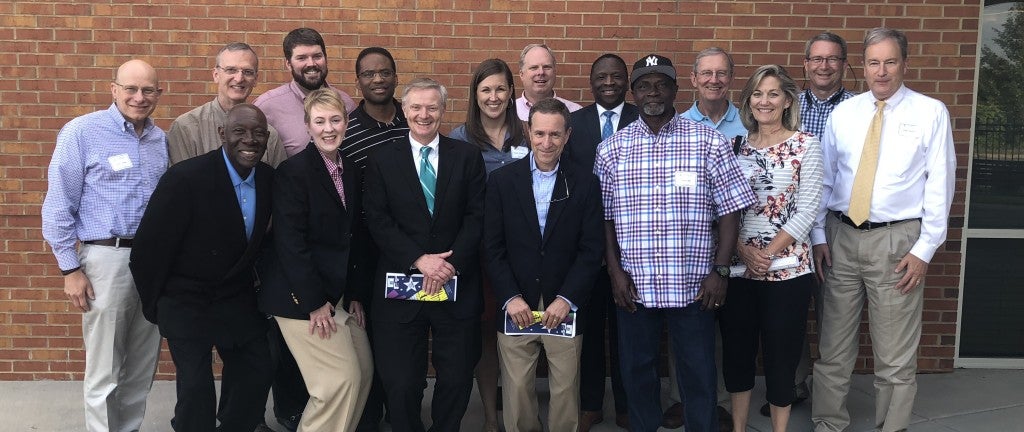 Samaritan Ministries Board of Directors 2017-2018
Keith Rogers
Board President
President, Keith Rogers Homes, Inc.
Rob Davis
Board Vice President
Senior VP, Business Services Team Leader, BB&T
Lucy Paynter
Board Secretary
Retired Director of Christian Formation, St. Paul's Episcopal Church
Charlene Johnson
Board Treasurer
Senior VP, Commercial Banking Administration, First Tennessee Bank
Al Jones
Board Assistant Treasurer
Associate Partner, Aon Hewitt
Joseph H. Ely
Development Chair
Retired, Exec. VP and Southeast Region Head, Aon Hewitt
---
Bo Brookby
Retired, Exec. VP & Managing Director, Wachovia
Holly Brower, Ph.D.
Associate Professor. Faculty Director of BEM Internship Program, Wake Forest University
Kenneth P. Carlson, Jr.
Partner, Constangy, Brooks, Smith & Prophete, LLP
Clyde R. Cash
Partner, Craige Jenkins Liipfert and Walker, LLP
Jerry Enos
Retired, Executive VP, Wells Fargo
Mike Ford
Retired, Director of Philanthropy and Legacy Programs, Pro Humanitate Institute, Wake Forest University
Michael Gwyn
President/CEO, Salem Commercial Real Estate Inc.
Terry Hales
VP, Academic Administration and Operations, Wake Forest School of Medicine
Larry Joe
Retired, Piedmont Natural Gas
John Justus
Sr. VP - Publishing, IMG College
Gilmour Lake
Retired, Founder, Computer Credit
B. Thomas Lawson, Jr.
Sr. VP, Philanthropic Sales Specialist, U.S. Trust, Bank of America Wealth Management
Christopher Leak
Senior Portfolio Manager, Family Wealth Advisor, VP, Morgan Stanley
Dwight Lewis
Associate AD of Community and Alumni
Relations, Wake Forest University
Kelvin Mayfield
Lead Finance Manager, Reynolds American Inc.
Hank Myers
President, HLM Construction Co.
Ben Noland
Sr. VP - Sr. Retail Lending Credit Officer, BB&T
Ed Robins
Managing Principal, JT Stratford, LLC
P. Michael West Jr. AIA
West & Stem Architects, PLLC
Kelly Whitener
Community Volunteer
Ron Wixson
VP/Analytic Consultant, Wells Fargo